Tudor | The Tudor Pro Cycling Team is back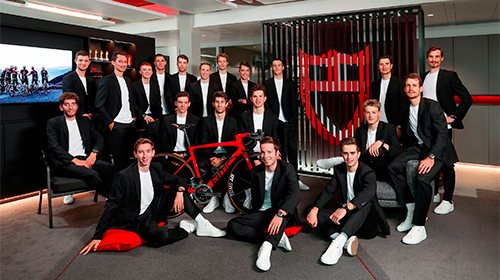 The Tudor Pro Cycling Team is back and bigger than ever before. Under the leadership of Fabian Cancellara, a crop of 15 new riders recently joined five returning riders for the 2023 season, where they will be competing in UCI's Proteam class in addition to a development team at the Continental level. And it is not just the roster of riders that's increased – the staff has grown exponentially since the team's inception earlier last year. Notably, Ricardo Scheidecker, former technical and development director of a world-class WorldTour Team, has brought his expertise, as well as Sebastian Deckert, who has joined as Head Coach.

The growth of the team is all part of the shared vision of Cancellara and the watchmaking house that puts an emphasis on the human aspect of cycling. Results matter, of course, but it is the day-to-day commitment from riders to push themselves both mentally and physically and concentrate on how they cross the finish line as much as when. It is a daring approach to cycling to build a team from the ground up, with empathy and respect for the well-being of the riders, putting them at the centre. Tudor Pro Cycling believes this is the path to peak performance. The recent team expansion is part of the plan to sustainably develop talent that eventually earns the big-name victories. Fabian Cancellara recently stated that his actions were carefully thought out, as confirmed by team's steady growth and success.

On top of all the new talent, the team has expanded with more hardware, including transportation and all-new BMC bikes. The 2023 BMC team bike will be "Tudor Red" and feature all the cutting-edge technology from the leading Swiss bicycle manufacturer. The equipment upgrade will fuel the team's ambition by enabling them to compete in multiple races on the same day, helping them meet their 2023 season goals.
Published on 2023-01-26