Tissot | Tribute to La Chaux-de-Fonds watchmaking history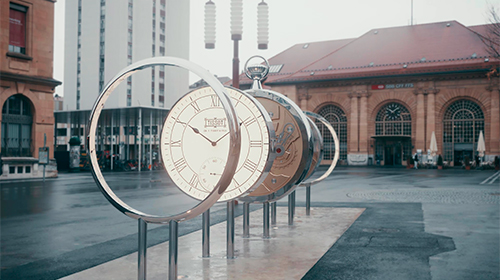 As the cradle of the world's watch industry, the Neuchâtel Mountains region has seen the birth of some of the greatest watchmaking brands on the planet and is renowned for its centuries-old expertise. The region is home to the watchmaking towns of La Chaux-de-Fonds and Le Locle, which have been listed as intangible heritage sites by UNESCO. It was in the town of Le Locle that the Tissot brand was founded in 1853 and where its headquarters are still located. Deeply attached to its roots, it remains an important player in the life of its region. For this reason, it has proudly offered the municipal authorities of La Chaux-de-Fonds a clock designed to bear witness to the richness and expertise of this unique place.

It all began with the observation that La Chaux-de-Fonds, despite being considered a watchmaking metropolis, did not have a clock that was visible when you entered the town. It was the President of the Confederation, Ignazio Cassis, who pointed this out in 2018, during the inauguration of the eighth Biennial watchmaking heritage event. Tissot then set itself the task of remedying the situation.

To carry out this project, the brand chose to join forces with the Ecole d'arts appliqués in La Chaux-de-Fonds, launching a competition for students enrolled in watch design classes. Eight teams responded to the call and proposed designs inspired by different eras. Loïc Chatton, whose project was selected, saw his work come to fruition.

The piece is inspired by the past and represents a decomposed watch case. It highlights the region's rich horological history, particularly its expertise in the creation of watch cases. The 3-metre-high, 13-metre-long, 800-kilogram monument is located in the station square near the Musée International d'Horlogerie.

This splendid achievement is a magnificent complement to the city's watchmaking town-planning and could well come to symbolise it. Tourists and locals, as well as watchmaking enthusiasts, can now admire this superb monument inaugurated on 10 December 2022.
Published on 2023-01-22