Zenith | Capsule collection with Fusalp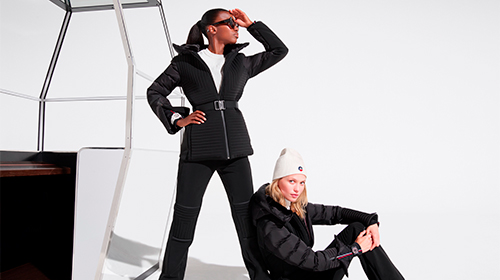 The watchmaker has unveiled a unique capsule collection with iconic ski and luxury wear brand Fusalp. The collection, which coincides with the French brand's 70th anniversary, includes two bespoke watches and a contemporary sport-chic wardrobe embodying the spirit of innovation and penchant for assertive style promoted by the watchmaker from Le Locle as well as the Annecy-based tailor.

Versatile in its styling and resolutely futuristic in its lines, the Defy Classic Skeleton was chosen as a meaningful template for this collaboration. As stylish as it is endurant, the Defy Classic is ideally proportioned as a unisex sport-chic watch that stands out with its symmetric open dial. Whether speeding down a slope or just lounging beside a fireplace in a cosy chalet, the Defy Classic Skeleton brings a cosmic radiance to the winter wonderland.

Issued in limited series of 300 in its black ceramic version and 100 in white ceramic, the Defy Classic Skeleton Fusalp watch features a new dial. The latter reveals striking depth and contrasts, highlighted by an openworked lower level in pink gold and surrounded by a ring in tricolour blue, red and white tones, a nod to the firm's French origins and a recurring design element in its sophisticated creations.
Published on 2023-01-08