Roger Dubuis | Excalibur Liu Wei Monotourbillon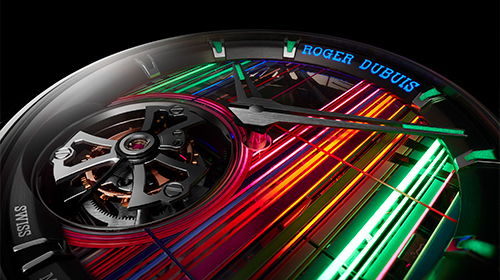 Continuing on a journey to create boundary-breaking masterpieces, Roger Dubuis unveiled the fourth timepiece from its Urban Culture Tribe, the Excalibur Liu Wei Monotourbillon.

Intrigued by his unclassifiable style, Roger Dubuis granted sculptor, drawer and painter Liu Wei access to its most important room: the Manufacture itself. This is where the multi-talented artist reinterpreted the astral signature of the iconic Excalibur MT. Immersing himself in the challenge, Liu Wei imagines a masterpiece of striking colours and architectural lines, a creative representation of the lively and intricate urban world.

Roger Dubuis' watchmakers imagined an ingenious three-layer solution to bring Liu Wei's vision to life. Creating a stunning effect, the first layer of décor features a transparent sapphire glass engraved with vertical lines on both the front and back, hand-filled with extreme precision. The watchmakers coloured each groove individually in a meticulous process that required every line to be dried completely before the next one was painted.

In this task requiring extraordinary patience, some grooves are filled with regular lacquer while UV paint is used for others. This carefully defined balance of painted and glowing lines creates a sophisticated architectural depth under UV light, while demonstrating mastery of luminescence. The selection of shades and their varying effects reflect the artist's vision of the world's vibrancy and the energy produced by its ever-changing landscape.

The second layer houses Roger Dubuis' astral signature. Translating the brand's consistent willingness to transgress rules, its thickness is reduced to work within Liu Wei's concept, while its grey structure features distinctive black lines for a disruptive contrast to the intricate composition created by the colourful stripes. This directly mirrors elements used by the artist to disrupt the systematic patterns of his own work.

The third and final layer features a sapphire glass case-back laser-engraved to create horizontal grooves. Hand-filled with UV paint, this overlap of lines creates an eye-catching contrast with the vertical stripes of the first layer. An exclusive and labour-intensive task, the result is a true example of contemporary art.
Published on 2023-01-02